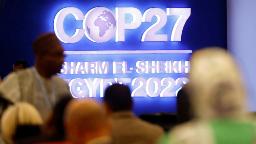 Sharm El Sheikh, Egypt
CNN
—

Delegates from nearly 200 countries taking part in the COP27 climate summit have agreed to set up a fund aimed at helping vulnerable countries cope with loss and damage from climate disasters, a landmark agreement in Sharm el-Sheikh, Egypt, in the early hours of Sunday .
But while the agreement represents a breakthrough in a contentious negotiating process, delegates are still working to hammer out other contentious parts of the deal, including a proposal that includes calls for the phase-out of all fossil fuels, not just coal. .
The agreement marks the first time that countries and groups, including longtime opponents such as the United States and the European Union, have agreed to create a "loss and damage" fund for countries vulnerable to climate disasters caused by pollution disproportionately produced by rich industrialized nations. get worse.
Negotiators and NGOs observing the talks said the fund was a major achievement after developing and small island nations banded together to put pressure on something to be done this year.
A senior Biden administration official told CNN that the fund would focus on what could be done to support resources for loss and destruction, but would not include liability or compensation provisions. The U.S. and other developed nations have long sought to avoid such clauses, which could expose them to legal liability and lawsuits in other countries. In previous public remarks, US climate envoy John Kerry has said that loss and damage are not the same as climate compensation.
"'Compensation' is not a word or a term to use in this case," Kerry said on a recent conference call with reporters earlier this month. "We have always said that developed countries must help developing countries cope with climate impacts," he added.
Details of how the fund will operate remain unclear. The text leaves many questions about when it will be finalized and operational, and how it will be funded. The text also mentioned a transition committee that would help finalize those details, but did not set a specific deadline for the future. As climate experts celebrated the victory, they also noted uncertainty about the future.
"The loss and damage fund will go to poor families whose homes have been destroyed, farmers whose fields have been destroyed and islanders who have been forced from their ancestral homes," said WRI chief executive Ani Dasgupta. "At the same time, developing countries are leaving Egypt without clear assurances on how the loss and damage fund will be overseen."
Climate experts say the fund's success this year is largely due to the unity of the 77 bloc of developing countries, which has a greater impact on loss and damage than in past years.
"They need to come together to move forward with the conversation we're having now," Nisha Krishnan, director of resilience for the Africa region at the World Resources Institute, told reporters. "The coalition has stuck with it because of our strong belief that we really need to come together to make this happen — and to move the conversation forward."
It was a hard-fought victory, in part because climate disasters like this summer's devastating floods in Pakistan drew global attention and spurred action.
"It's like a giant buildup," former U.S. climate envoy Todd Stern told CNN. "This has been the case for a long time, and it's getting worse for fragile countries because there's still not a lot of money going into it. If we can see the actual catastrophic effects of climate change getting worse."
The meeting first went into overtime on Saturday and then continued into the early hours of Sunday, with negotiators still working out details and workers demolishing the field around them. At certain times, there is indeed a sense of fatigue and frustration. To complicate matters, top US climate official John Kerry, who is self-isolating after recently testing positive for Covid, is using the phone instead of conducting face-to-face meetings.
Earlier on Saturday, EU officials threatened to walk out of the meeting if the final agreement failed to support the goal of limiting warming to 1.5 degrees Celsius above pre-industrial levels.
Scientists around the world have warned for decades that warming must be limited to 1.5 degrees – a threshold that is fast approaching as Earth's average temperature has already climbed to around 1.1 degrees. Above 1.5 degrees, the risk of extreme drought, wildfires, floods and food shortages will increase dramatically, scientists said in the latest UN Intergovernmental Panel on Climate Change (IPCC) report.
At a well-planned news conference on Saturday morning, EU Green Deal chair Frans Timmermans, who gathered ministers and other senior officials from EU member states, said: Better than a bad deal."
"We don't want 1.5 degrees to disappear here and today. That's totally unacceptable to us," he said.
The EU has made it clear that it is willing to agree to a loss and damage fund – a major shift in its position from a week ago – but only in exchange for a firm commitment to the 1.5 degree target.
On Saturday evening, as the sun set in Sharm el-Sheikh, the mood turned to cautious jubilation and negotiators began to hint that a deal was imminent.
But, as is always the case with high-level diplomacy, officials were quick to stress that nothing was really agreed until the final gavel fell.